As a local business, you need to attract new customers and keep your existing clients coming back for more if you want your business to keep running. 
You know selling more stuff to your existing customer is 10 times more effective than finding new customer. 
The existing customer will forget you, if you are not constantly in touch with them.
Also, getting new customers is always hard for business because often you need the financial support to advertise on a large scale. 
This is where Email Marketing comes into play, even though email marketing is an old strategy it is still the most effective method to grow your business.
Today we are going to look at Constant contact an email marketing service that is been around for a while and is becoming more popular.
Constant Contact
Constant Contact is an email marketing solution that helps businesses become more powerful using email marketing to secure, convert and retain customers.
When you visit the constant contract site, this is what they have to say about email marketing.
Why should local businesses use Constant contract email marketing services?
Engaging and building trust is the key to win your customer
You need to win your customers trust for them to buy from you. They need to feel you are legitimate and trustworthy. 
In order to gain this trust you need to constantly communicate with them, tell them about you and your products. 
Constantly staying in touch with your contacts is the whole reason you're looking for an email service.
Constant contact provides a set of features that make it easy for managing email marketing for your business.
Lets look at some of the features
Pre made templates
Constant Contact has a huge selection of ready-made stylish templates to choose from, but they are easy to edit and styled based on your preference so you can start off very quickly.
Campaign Ideas
Another interesting thing about constant contact is it generates campaign ideas, when you tell your industry.
This is pretty cool feature, because many of us follow experts from various industry and try to copy their email marketing strategy. 
But when you look closely, the strategy varies from industry to industry. This feature in constant contact helps you figure that out easily.
Autoresponder _ Automatically send messages
This is one of the best time-saving features that you will love.
This one feature lets you do many things on an autopilot. Lets see some usecases.
When a new customer signs up, you can send a series of welcome emails and sell more products or services.
You can send a special offer on their birthday or anniversary automatically.
You can automatically segment your customers as highly valued customers and send special offers to them.
We can think of many other ways to automatically engage with the customer or potential customers using proven email series.
List Growth Tools
You need to capture users in the channels where they hang out.
There is a bunch of growth tools that comes with constant contact. This is another area constant contact is better than others.
From Facebook signup to text message signup, there are many options to sign up your users.
Sign Up forms using Form Creator
I often struggled with this in most of the email marketing providers and ended up signing up for another service that costed me more. 
Constant contact has easy to use form creator to create your sign up form and integrate wherever you want. 
Pre Build Campaigns
Creating a campaign often requires some creativity and research. 
When I start creating a campaign, I often get stuck on knowing what to send.
With constant contact they have a bunch of ready to use campaign, that guides me to create the effective campaigns quickly.
Survey and Polls
You need to have two ways of engaging conversation with your contacts, Survey and polls are one of the ways to do so.
Plus you can learn what your audience is interested in and you can design your email using this survey.
Constant contact helps you to create such survey and polls, analyze the data in real time on the social media and help develop your responses.
Event Spot
Ever think of running an event? This feature helps you set up event in just a few clicks.
Constant contact has readymade templates for landing pages and event registration pages.
It will take care of tracking registrations and even take the payments.
Coupons
Send coupons to your clients that you can really track. Remain educated on who is utilizing them to help make your customer base.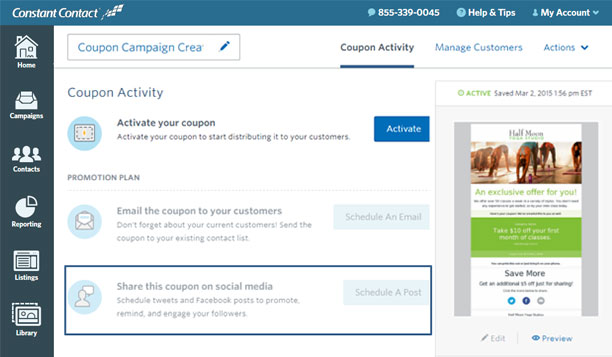 Social Media Integration
Not only can you share your newsletter in just a few clicks on your favorite social media sites, but you can integrate campaigns to Facebook that will allow your business to grow.
Contact Management
Constant Contact has an extremely powerful Contact Management System that is nearly endlessly customizable. 
Add custom fields, tag contacts, and so much more. Importing and exporting lists is a breeze, and Constant Contact can help to clean up your lists by avoiding duplicates.
Collecting Donation
If you spread awareness on social issues and can collect donations, it helps you increase your fund raising ability.
Also, your customer may have a good image of yourself in their eyes. Constant Contract helps you add a Donation Action Block to your emails, with a secure payment processing, and track donations with real-time reporting which you can display on your website.
Shopify Integration
Constant Contract integrates your account with your eCommerce store. Where you can insert a product from the store on your website with a discount which will definitely boost your sales in less time.
Why should you choose Email marketing apart from these features?
Email marketing isn't something you do just because you can and it's easy. The tactic is very effective in helping business owners and consumers stay connected.
In fact, consumers often seek out email marketing campaigns from their favorite brands and local stores.
A report said that 28 % of US online shoppers subscribe to store or product emails in order to stay informed.
Another study stated that 59% of US moms would sign up for email updates from brands if rewards were offered.
How much does it cost to use Constant Contact?
You can start off free on a trial pack of 60 days.
Then you can either choose from two different plans –
The basic Email Constant Contact plan is meant for small teams or freelancers that don't need the most advanced email marketing features.
The Constant Contact Email Plus plan is great for managing teams and is the right choice if you need features like automation, event management or online surveys.  
The features are listed below:
Discounts
A 15% discount applies to 6-12 month plans, and a 30% discount is available to nonprofits. It has a 30-day money back guarantee.
If you have more subscribers the price for Constant Contact will increase as follows:
Customer Service & Support
Constant contact has tutorials and real-time chat support which will help you setup your account on the first use.
Plus the company customer service is terrific as well. You don't have to be on hold for much longer.
The customer service helped me on my first try and gave me exactly the information I needed. She stayed with me to verify that my problem was solved and I was happy with their service.
They are available 24*7 and has a very competent online chat service as well which operate very efficiently.
Final Thoughts
I looked at Constant contact long back and did not think it would work for me. But they have seriously ramped up a lot and now it is a totally new product.
As Constant Contact themselves reiterate through their site, they are a tool for small businesses. 
It truly a good tool for small and local business and can be used to scale bigger as you grow. 
The tool is good and is continuing to grow better, and the company has done a fabulous job of making email marketing feel approachable for those who are new to the industry as well.
If anyone of you is looking for an easy to use all in one use email marketing program with a great reliability.
Constant Contact might be an excellent fit for you.